Hope all you dads had a happy Father's Day!
We celebrated father's day by going to Lake Geneva, WI on Saturday. It was a perfect day! If you've never been you HAVE to make it there sometime. So many fun things to do.
First stop was strawberry picking at Thompson's Farm in Bristol. The weather was perfect and lots of strawberries to pick through. (and eat...)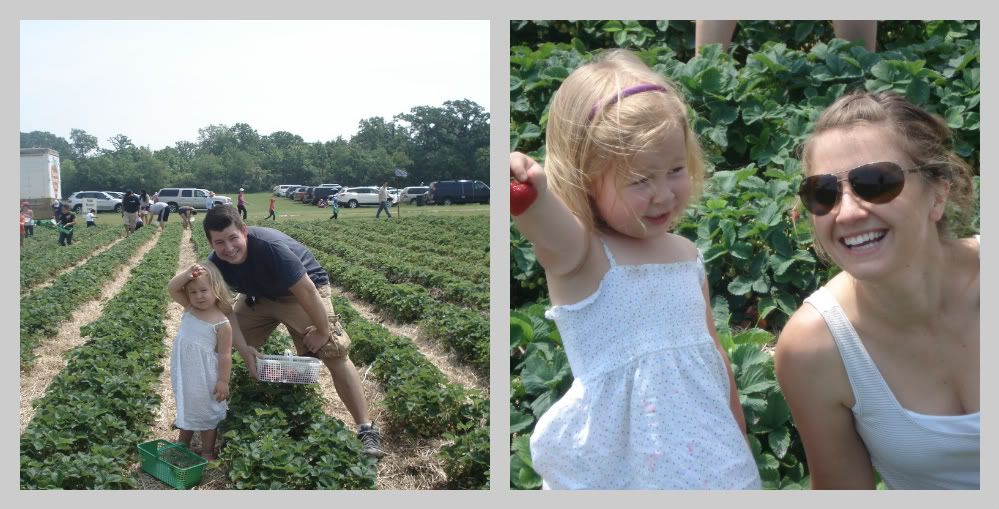 Then off to Beil's Bakery in Delavan. This for me is no ordinary bakery. Beil's used to be in my childhood neighborhood, Mayfair in Chicago, and I stopped there often EVERYDAY! Whenever I make it out to LG, Beil's is on my to do list.




The one item I never leave without are their AWESOME brownies. This is such a reminder of my childhood stops there.




Bub likes them too...




Delavan is such a quaint, friendly town and has a very Americana feel. Brick streets and old shops line the downtown. Lots of antique shops too and these I could not pass up.




Here are a few items I bought. A couple pieces of milk glass compote that I found for $4 and $5. I also got a Ball jar filled with buttons for $2.50. I have a magnet project I want to try with the buttons and I just can't stop getting myself Ball jars.




Check out this awesome pantry I saw. Only $75!!! Wouldn't this be a great piece to have? Too bad I have no room...




To finish our day trip we walked by the lake and had a picnic. Here is Bub enjoying her first Potbelly sandwich. PB&J.




Hope you had as great of a day as we did!