My friend Katie is an inspiration to me. She may not think so but is a great decorator and has done an awesome job in her home. I absolutely LOVE her cooking and baking too. Really! She makes the BEST desserts and can whip up an awesome latte on her fancy machine. Forget Starbucks if I can have some of Katie's coffee...
For my first "Spotlight" (details to come), I am going to share her sweet daughter, Aidan's bedroom and the great job Katie did in transitioning her into a big girl room.
I know the struggles and hard work too since I just did the same thing for my little Bub. If you haven't checked it out, do a little clicky here.
Here is how the room looked before Aidan moved in.
Isn't that fan just perty?
And for the reveal...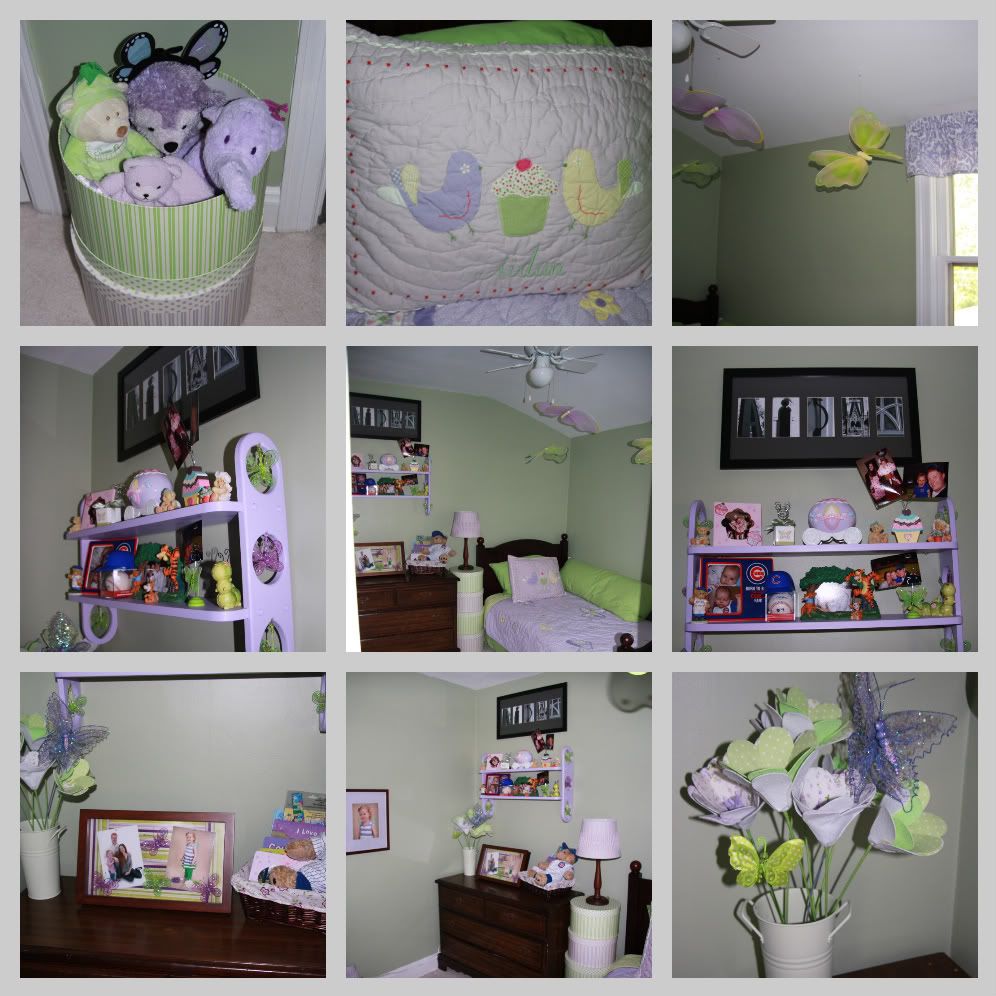 Time for you to say your ooh's and ahh's...ohh ahh!
Here are some det's on what Katie did:
1. The wall color was already a perfect shade of green and so NO painting needed. What a time saver for a preggo mommy. Phew!
2. Bed and bedding were a new purchase from, as you already know as one of my fav stores, Pottery Barn Kids. One of Katie's too! Bed is the Catalina, twin size. The gorgeous bedding is the ever so sweet Lindsay quilt set. Don't you just LOVE the cute little birdies and yummylicious cupcake?
3. Did you notice the sports themed shelf in the above before pic? Well, this is my favorite part of the whole room. Katie transformed it into a purple butterfly shelf perfect for a little princess. She painted it Freesia Purple using Behr paint with primer. On the sides Katie added butterflies she found from Hobby Lobby.
From this...to that...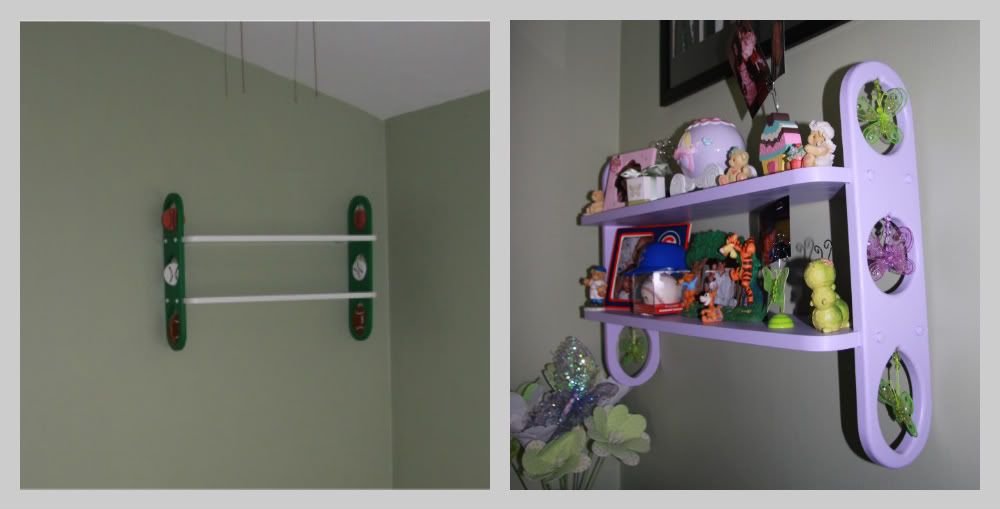 4. Hat boxes from Land of Nod were re-purposed and now being used as a night stand and storage for all of Aidan's little friends.
Curious about other items in the room:


- Wallpaper Floral Valance from Land of Nod

- Madame Butterflies from Land of Nod are hanging from the ceiling

- Bucket and flowers are from PBK

- Aidan name art is a special piece made by Katie's sister. She took the photos herself of objects in the shape of letters spelling Aidan.

Thanks for reading and I hope to share more details of The Spotlight tomorrow!


Linked to: